As you all know, yesterday was the famed 801 Day! Everyone at Digital manga had a blast! Our trivia contest was a success–our turn out was great. It's sad that Yaoi Day only comes once a year, but don't worry–we're extending the fun all weekend!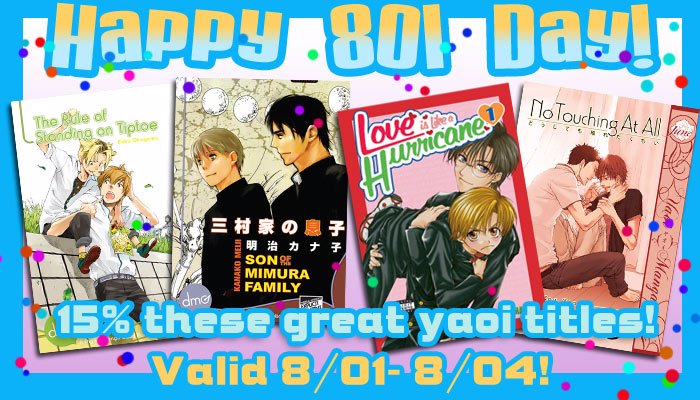 We're having an 801 Day sale over at eManga! Expand your digital yaoi library with 4 titles at 15% off!
And of course, Akadot. Many out-of-print yaoi titles are back in stock for an extremely limited time! In celebration, all items are 30% off with the code 801day13!! Spend $80 and get a free yaoi gift bag.
Onto our weekly digital round-up. We have quite a few new titles and an exciting announcement: Give My Regards to Black Jack is now up on eManga in its entirety!  The first three volumes are FREE and every volume after that is $1.00!
A Fortnight Until We Touch: Ooji hasn't been the same since his coworker Kaizuka quit. Kaizuka's replacement, Sekimoto, is rude at first, but Ooji still can't resist offering to let him crash at his place. Though there may be tension between them at first, a lot can change in a fortnight.
Minase can't stop thinking about the summer of his last year of high school when his mother died. His friend Susa took him to the beach and patted him on the head. Now, five years later, Minase keeps waking up at three every morning to find a sleepwalking Susa at his door.Though Sawaki's high school crush Shiino left him, he could never forget him. After running into him again three years later, he swears this time will be different, even if the ring on Shiino's finger means he has already been claimed by another.A Fortnight Until We Touch features three emotional short stories of second chances born from words left unsaid.

Give My Regards To Black Jack Vol. 6: "This person is going to die without ever knowing anything…!!""It's all right." "Those who are cured of cancer are those who battled with cancer."Placing faith in the words of Dr. Shouji, Tsujimoto endures the crippling side effects of her cancer treatments. She knows nothing of her odds of pulling through, her medical options, or the truth behind her doctor's words.Saitou watches helplessly as Shouji keeps his patient in the dark. In an attempt to "cure" Saitou of his naïve ideals, the oncologist tells Saitou an anecdote from the past. Why do doctors tell half-truths? How do patients deal with the news? Shouji's tale explains of a patient that answered those questions for him.Discover Japan's cancer debate taking place right this minute!

Eat For Your Life: Mantarou Ohara's salary can't keep up with the amount of money he spends on food. He doesn't just eat his meals, he savors every mouthful and travels Japan in search of new flavors to excite his taste buds. But when a serious lack of funds causes him to choose between living off noodles or entering an eating competition, it seems that the life of this gourmet is about to change…Will the guidance of a mysterious stranger turn Mantarou from a food lover into a professional competitive eater? Or will his passion for the perfect recipe be his downfall…?

Weekly Astroboy Magazine: Often hailed as the "God of Manga", Osamu Tezuka draws stories of life, death, and morality His compilation of stories touch upon sci-fi, history, crime, politics, romance, but always raises questions on the human condition and reflects the ambiguity of morality.